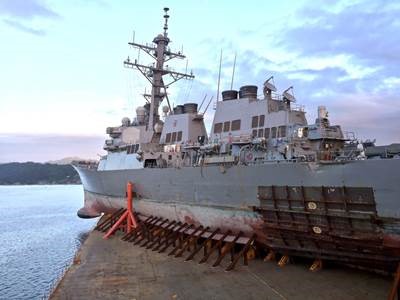 U.S. warship USS John S. McCain, which was involved in a collision with the Liberian flagged tanker Alnic MC, while underway east of the Straits of Malacca and Singapore in August 21st, has departed Philippines and it's heading to Yokosuka, Japan, for repairs.
According to the Navy, the guided missile destroyer was diverted to Philippines on October 22nd, due to poor weather conditions and to repair some cracks found in the ship's hull. While at anchor in Subic Bay it was determined that the ship needed additional blocks under it to support and distribute its weight.
The warship will be repaired at Japan in the Ship Repair Facility and Japan Regional Maintenance Center, (SRF-JRMC), before returning to service, and according to Lt. Cmdr. Sandra Wyman, who is in charge of the vessel, this project will be one of the largest that SRF has undertaken.
Following the collision, USS John S. McCain moored at Singapore's Changi Naval Base. In the weeks prior to departure, technicians, divers and some crew members, prepared the ship by patching some damaged sections in the hull and placing key systems in maintenance in order to be able to carry on its journey.
Source: http://www.srf.navy.mil/
Table of content
Related articles